EFICAS project (GCCA): Innovative landscape approaches can tackle complex upland development challenges
Wednesday, 08/07/2015, 15:05 GMT+7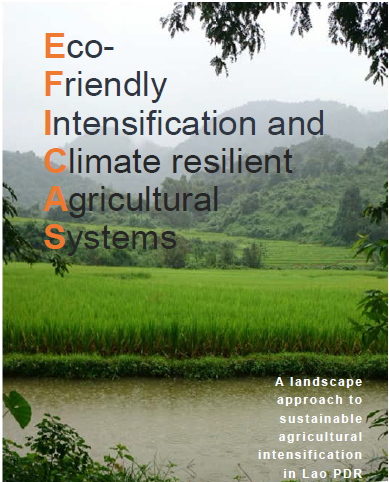 EFICAS project (GCCA): Innovative landscape approaches can tackle complex upland development challenges
Over the past decades a large range of technical options have been tested successfully in the Northern Uplands of Lao PDR to support the transition from subsistence to commercial agriculture. These solutions to a sustainable intensification of upland agriculture are well known by most development stakeholders, including village communities. For example, incorporating legume crops in association or rotation with upland rice and maize can improve soil fertility and reduce soil erosion while controlling pest and weed pressure on the crops. These eco-friendly practices also contribute to climate change mitigation by accumulating carbon in the soil and adaptation by buffering the erratic climate events (both droughts and heavy rainfalls) thanks to the soil coverage with crop residues.
So why don't upland farmers massively adopt these beneficial practices? Most often the reasons for low adoption are not related to the cropping techniques themselves but to external causes, such as the free grazing livestock which compromise soil coverage or because of limited knowledge of existing market outlets for the legume crops, or simply because farmers find it less labor consuming to till their land or to use chemical products instead of organic practices. Innovation is not a straightforward process.
During the next three years, the Eco-Friendly Intensification and Climate resilient Agricultural Systems (EFICAS) Project funded by the European Union (EU) and the Agence Française de Développement (AFD) will tackle these complex issues faced by upland communities in the 3 target provinces of the Northern Upland Development Program (NUDP) Program, namely Luang Prabang, Huaphan, Phongsaly, based on lessons learnt from previous projects on conservation agriculture implemented in the two provinces of Sayabouri and Xieng Khouang. The kicked-off meeting of the EFICAS-NUDP/CA Project organized in Luang Prabang on December 9th was the occasion to share experiences and present the project framework. Mr. Khamsone Sysanhouth, the Director of NUDP, reminded the 90 meeting participants that "sustainable intensification of agricultural production requires investing in people as much as in technical solutions". Recognizing that in many cases the constraints to the adoption of innovative cropping practices lie in the multiple components of the livelihood systems, a landscape approach to sustainable agricultural intensification designed by the team of the EFICAS Project was discussed during the meeting. Mr. Olivier Gilard, AFD Representative indicated that "the lessons drawn from previous projects on conservation agriculture in Sayabouri and Xieng Khouang Provinces will help adapting agroecological practices to the local contexts of NUDP provinces". Indeed, a major challenge of implementing institutions of the EFICAS Project, namely the Department of Agricultural Land Management (DALaM-MAF) and the Centre de coopération Internationale en Recherche Agronomique pour le Développement (CIRAD), will be to co-design with village communities innovative practices that make the techniques already available compatible with the diversity of livelihood systems found in the uplands to favor large dissemination and long term adoption of conservation agriculture practices.
The research support provided by the EFICAS Project to the Northern Upland Development Program will help increase agricultural production in upland areas while preserving soils, which is essential for mitigating and adapting to climate change. "The EU is committed to lead on international action to address climate change and would be pleased if EFICAS experiences could be used in the future to better protect the natural capital on which future generations will depend. This is an important objective of the EU Global Climate Change Alliance" reminded Mr. Koen Everaert from the EU Delegation in Lao PDR. "It is important to do good research but it is even more important to communicate results obtained so that they can quickly disseminate" he added. Mr Kouang Dongsila, deputy director of DALaM (chairman), Mr. Somphanh Chanphengxay from the Department of Planning of MAF and Mr. Vongsavanh Thepphachan, Director of the Provincial Agriculture and Forestry Office of Luang Prabang called for "more meeting of this kind to share experiences among stakeholders of upland development and to synergize activities of all green agriculture projects that have the common objective of alleviating poverty in the uplands areas of Lao PDR while preserving its fragile environment".
Written : Le Huu Huan